Solar panels Galway Ireland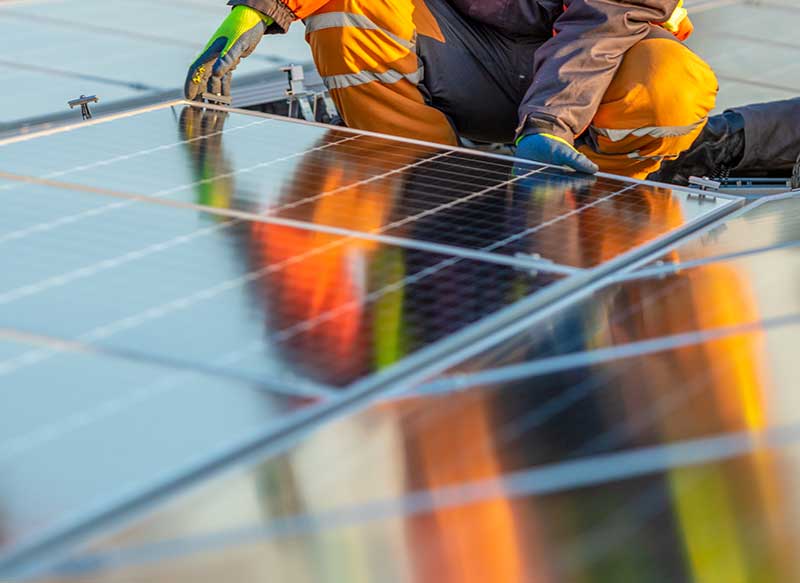 Use KRDC for Solar Panels Galway
Customers are looking for a reliable company that can install first-class Solar panels Galway Ireland. We at KRDC are just the company, we are approved SEAI solar PV Installers. As a long-established electrical company, KRDC may be a beneficial partner for your home, farm or business. At KRDC we keep in line with the HSE Guidelines to make sure that everyone in the vicinity is safe. 
Installing solar panels across all of connaught including Galway, Mayo, Sligo, Leitrim & Roscommon. We can help calculate how many panels you will require based on your energy consumption. Call our fully insured & approved company today to get a quote for your home, farm or business.
Solar Panel Effectiveness in Galway
We are experienced solar installers at KRDC. There is a misconception that solar PV panels or solar energy would not work in Ireland, and we would like to prevent this spread of misinformation by informing potential solar panel customers that this is not the case. This misconception stems from people believing that we don't get enough sunlight in the summer, let alone the winter. This is not the case; solar panels (Solar PV) function with daylight rather than heat from the sun.
In reality, Ireland's yearly irradiation levels are like many regions of Central Europe, ranging from 1200 kWhr/m2/yr in the south to 1000 kWhr/m2/yr in the north, with a decent average of 1000 kWhr/m2/yr for the whole nation. Our moderate environment is perfect for Solar Panels (Solar PV) since we never get too hot or too cold and have adequate light levels for a considerable portion of the year, even though our average winters are not as harsh as many regions of Central Europe.
Although there are two types of solar panels – solar photovoltaic (PV) and solar thermal – the idea underlying both is the same. They take the sun's raw energy and convert it into useful energy. Solar PV systems do so via generating electricity, whilst solar thermal systems heat your water or air.
Green Renewable Energy Source
Solar Panels (Solar PV) are a clean energy source – Solar Panels (Solar PV) utilise the sun's energy to create clean green electricity that can be used directly in your house or company in lieu of conventionally generated power. It is one of the most simple and cost-effective renewable energy solutions to incorporate into any structure, whether commercial or residential. You may also add solar panel battery storage to your system, allowing you to store any excess energy and utilize it when you need it. You'll get paid for your exports which will in turn reduce running costs.
You save money with a solar PV system because you are not only saving money on your power bills, but you are also safeguarding yourself against future price increases from energy suppliers and any energy shortages. Solar Panels (Solar PV) decrease CO2 emissions – Each unit or amount of electricity generated by a solar PV system lowers CO2 emissions from traditional power plants.
SEAI Grants for Solar Panels Galway
SEAI are offering solar panel grants for solar PV system installation on your home. There is currently a solar panel grant of €1,800 – €3,000 for solar panel (Solar PV) and battery installs to reduce installation cost and solar pv system cost.
Get in touch today with KRDC and we will happily guide you through the grant application for your solar panels Galway Ireland.
Micro-Generation Support Scheme (MSS)
The Micro-Generation Support Scheme (MSS) will begin in Q3 of 2022. The scheme is open to all homes constructed before 2021. A minimum BER rating is no longer required. The scheme would provide up to €2400 in grants for solar panel installation to homeowners, farms, businesses, schools, and community buildings.
KRDC Electrical is a certified PV & Solar Panel installer. To learn more about the Micro-Generation Support Scheme, contact us today.