It is time to take control of your energy costs
Homeowners can now avail of a rebate to support the installation of Solar PV panels and battery energy storage systems. Support is available to all owners of dwellings built and occupied before 2011 and where SEAI have not previously provided support for solar system at that address. It is critical that homeowners do NOT start works until they receive the grant offer. We are SEAI approved installers.
Electricity from the PV
Electricity from the PV panels can be directed to the hot water system to provide the homeowner with free hot water.
SEAI Eight-Panel System
The SEAI provides a grant of €1800 for a 2 kWh, which is a standard eight-panel system. Can generate up to €430 of free electricity per annum.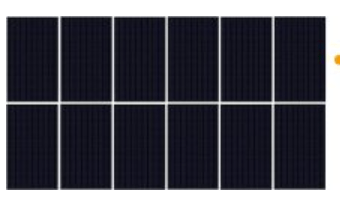 SEAI 12-Panel System
The SEAI provides a grant of €2400 for a 4 kWh, which is a twelve-panel system. Can produce up to €650 of free electricity per annum.
Save on Energy
A typical small 6 panel system can provide up to €330 of free electricity per annum. While a larger system with 20 panels can provide almost €1100 of free electricity per annum. These results are based on south facing roof with 45-degree slope.
Generate Electricity
PV panels enables homes to generate clean, green renewable energy. By investing in solar PV panels homeowners can increase their BER rating, which will in turn add value to their property. We are SEAI approved installers.
Excess electricity
Excess electricity can be stored by investing in a solar battery system which enables the homeowner to then use the excess electricity in the evenings. SEAI provides a battery storage grant of €600.
Location
We work in the west of Ireland which includes Sligo, Mayo, Leitrim, Galway, Roscommon, Cavan, Longford and Westmeath
Visit SEAI.ie.
Fill in the grant application.
Nominate KRDC Electrical as your registered solar PV installer.
Arrange an independent BER assessor to survey your property.
We will install your PV system in accordance with the SEAI.
Submit documentation.
Frequently Asked Questions
What We Know About the Export Payment
The export payment should start in 2021. Homeowners, businesses and farmers, will all be able to participate. The plan is for the scheme to have two main parts: However a start date has yet to be confirmed but the process of installing smart meters has already begun.
1: Smart Export Guarantee
The Smart Export Guarantee will be available to everybody, no matter when your solar panels were installed
Based on the market value of the electricity you export to the grid
Paid to you by your electricity supplier
No cap on the amount of electricity you can sell
2: Clean Export Premium Tariff
Only for solar panel systems installed after June 2021
This will be a bonus payment on top of the smart export guarantee
To be funded through the public service obligation (PSO) levy
Payments are capped at 30% of the electricity you generate
Maximum system size of 50kW
Can I get the solar panel grant now and also sell power to the grid in the future?
Yes. You can get a grant of up to €3,000 by installing solar panels now. You will then have your solar panels in place and be ready to sell surplus electricity from July under the Smart Export Guarantee. However, the SEAI grant scheme will likely end this summer. So, if you want to take advantage of the SEAI solar panel grant and the export payment then make sure to do it soon! Enter your Eircode below to get started:
I'm thinking of getting solar panels. Should the possibility of future export payments affect the system design?
Yes. There are several inexpensive tweaks that you can make to the design of your solar PV system that will make you much better prepared for the smart export guarantee.
One option is to add a few extra panels, making your installation a little bit bigger than what you would otherwise go for. Adding a little extra capacity doesn't cost much, and it will serve you well for your own consumption as well as the export payment.
Another option is to install an extra-large inverter. Once again, going up a couple of sizes in your inverter costs relatively little. An extra large inverter gives you flexibility to simply "plug in" more solar panels at a later time. Give this option special consideration if you have lots of roof space available for solar panels.
Finally, the export payment makes the option of installing solar panels without battery storage much more attractive. This is because selling surplus power to the grid may be a good alternative to storing it. On the other hand, you should still consider installing a hybrid inverter. A "hybrid" inverter is compatible with battery storage, giving you the flexibility to install a battery at a later date if ever you want to.
Micro-Generation Support Scheme (MSS)
The Micro-Generation Support Scheme (MSS) will begin in Q3 of 2022. The scheme is open to all homes constructed before 2021. A minimum BER rating is no longer required. The scheme would provide up to €2400 in grants for solar panel installation to homeowners, farms, businesses, schools, and community buildings.
KRDC Electrical is a certified PV & Solar Panel installer. To learn more about the Micro-Generation Support Scheme, contact us today.